Holly Congdon
Assistant Chief Happiness Officer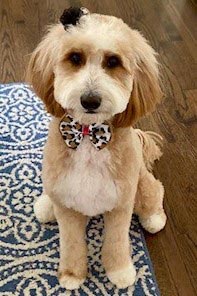 Holly joined the Bay Oaks team in January 2022. She is our Assistant CHO (Chief Happiness Officer) and reports directly to CHO Piper Congdon.
Holly was chosen after an exhaustive search spanning several months and many states. If you ask the other members of the Bay Oaks staff why Holly chose to join the team, they would tell you it's because they share her passion for insurance, enthusiasm for meeting with prospective clients, ability to review complex policy language, competency during coverage negotiations and knowledge of the claims process. If you asked Holly, she would say her decision to join Bay Oaks was largely based on the very attractive employee benefits package: morning walks, unlimited access to chew toys, frequent behind-the-ear scratches, flexible playtime breaks, afternoon naps and of course, the opportunity to chase the CHO's wagging tale whenever they are in a room together.
As Assistant CHO, Holly's responsibilities will include taking CEO John Congdon for walks and providing background entertainment during video conferences and telephone calls.