Piper Congdon
Chief Happiness Officer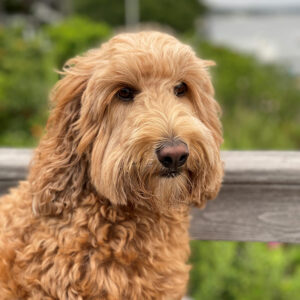 Piper is our CHO (Chief Happiness Officer).   Need a sensitive document shredded into illegible, drool-stained tatters or maybe just a mid-day walk to clear your head?  Much like the insurance policies we place, Piper's got you covered!
Piper brings with her a long tradition of insurance claims experience spanning several generations including:
Oscar (sibling): Knocked over a 40 gallon tropical fish tank on fourth floor of an apartment complex while his owner was at work. Replacement costs for the aquarium, filtration system, exotic fish, carpets in both the affected dwelling and unit directly below as well as repairs to the floors and ceilings totaled nearly $19,000 and were covered by a renter's insurance policy.
Daisy (second cousin on mother's side): Daisy broke free from her owner's leash and was found the following morning inside a local museum. While hiding out underneath some of the display furniture overnight, she chewed the legs off of an antique armchair belonging to Marie Antionette. Damages were estimated at $72,000. The museum's fine arts policy covered the damages but later subrogated recovery from the homeowner's insurance policy maintained by Daisy's owners.
Chance (uncle on father's side): Despite repeatedly being called a good dog for most of his life, Chance showed a propensity for biting. After issuing no less than three checks to various bite victims over the course of eight years, the owner's insurance agent was forced to non-renew his homeowner's insurance policy. When the agent delivered the non-renewal notice to the policyholder's home in-person, Chance promptly bit the agent resulting in yet another liability claim against the owner.
Lucky (grandfather): Lucky's owner left him inside his parked vehicle briefly for a stop at a convenience store. The owner left the car running because of a heat advisory that day. The owner returned just in time to watch Lucky step on the car's gearshift which caused the vehicle to roll forward into two nearby parked cars. Damages to the dog-driven car and two parked vehicles exceeded $22,000 which were covered by the owner's personal auto insurance policy.
Piper can often be seen taking Bay Oaks' CEO for a walk and napping in the background of Zoom meetings at our corporate office in Garden City, NY.